The story begins about ten years ago when my now husband, Armando, adopted a little Maltese Dog as  a companion pet for me. I was very ill at the time. A few years before I met Armando, I had had three surgeries related to Crohn's disease. For several years after, I was at home suffering flare-ups and Armando felt bad leaving me at home alone. He went to the animal shelter and adopted Whirly for me.
Below is the adoption picture from our local animal shelter, The Oregon Humane Society.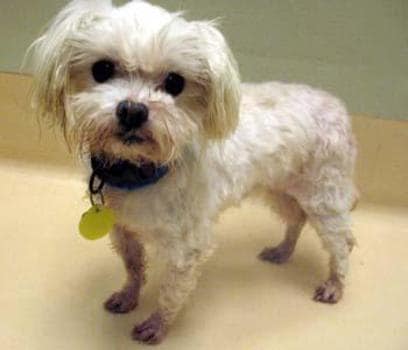 As you can see in the picture, Whirly had been shaved down to very little hair. He was a breeder dog, in a puppy mill, and 9 years old. He had lived in a cage all of his life and was stained from urine and feces, therefore he had to be cleaned up. When we got him, he was always cold. I started buying dog clothes; jackets, shirts, bandanas, etc from all the big box stores, and everything I purchased was cheaply made and fell apart. So with the help of YouTube and a couple friends who were excellent sewers, I learned how to sew and make dog clothing. I wanted to use quality materials and make dog clothes that lasted! Everyone who saw him, loved what he was wearing and suggested I start selling some of the pet apparel I made. That is how Whirly Dog Supplies got it's start.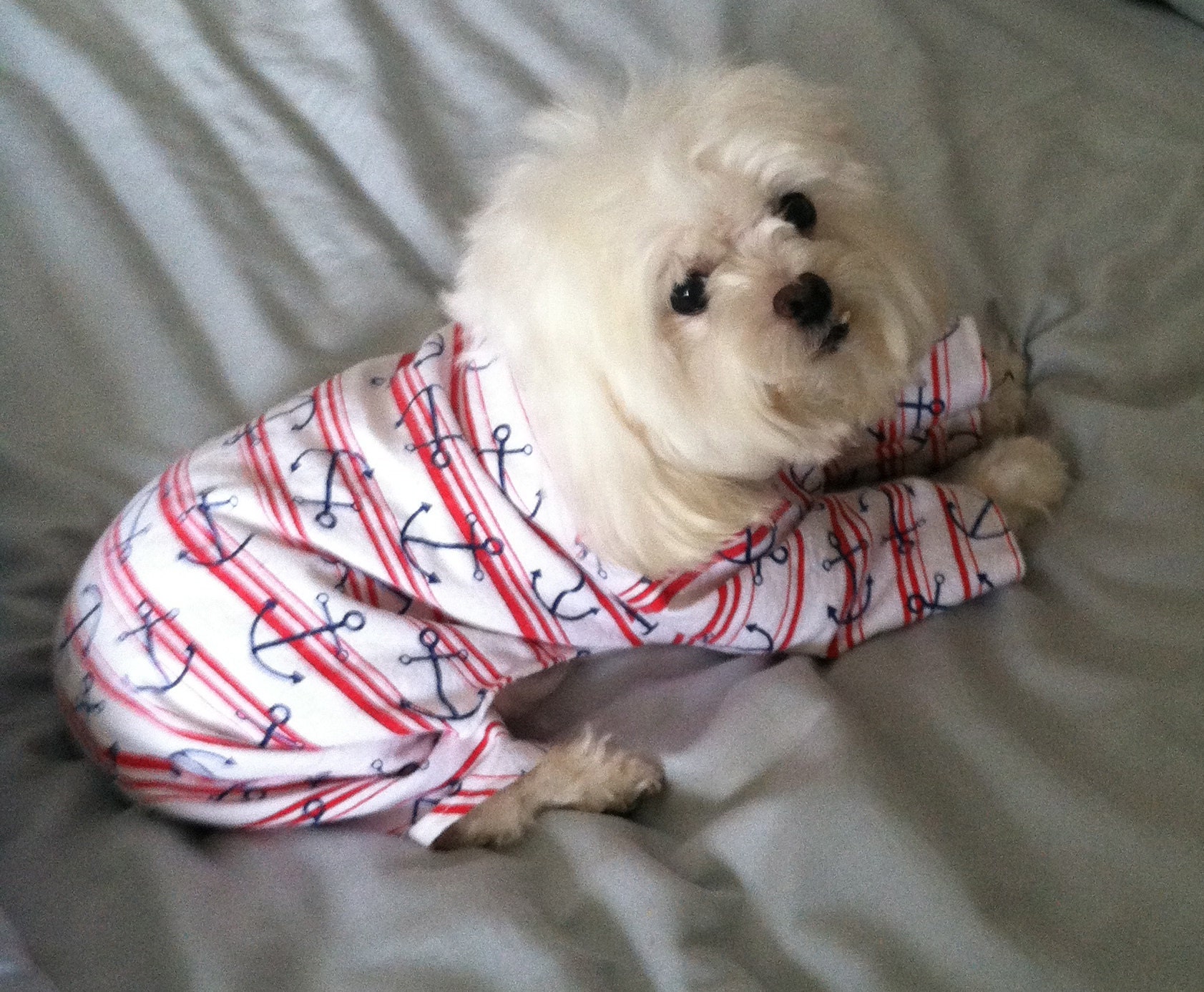 Almost 10 years later, Whirly has slowed down. He has arthritis and I give him dog treats that have CBD in them, made by Pup Town Cafe. The treats have helped a lot, but I think he's now going beyond getting any kind of help. He will be nineteen in a couple months, but sadly he won't make it until then.
Whirly is now blind, deaf, and watching him walk, eat, drink, and just living day by day, we can see the end is near. He is still eating and drinking but when he drinks water, he coughs and vomits. Furthermore, when I give him his food, I have to guide his head to the food, because he can no longer smell where it is. He can't hold his bowels anymore and is incontinent, so I am taking him out to go potty every two hours,  most of the time, he's sleeping and I have to wake him up. Lastly, and most heart breaking, is that he seems to be searching for me constantly: he wonders around the house, bumping his nose into everything until he can find me or he ends up surrendering to his disabilities and finds his bed and goes to sleep. 
We have decided that it is best if we take him to the Vet and have them put him to sleep, so he can cross the rainbow and have a better life in doggy heaven. My fear is he won't make it that long - seeing the way he walks and acts, I truly feel we are at the final days of this sweet little dog's life. I don't want him to die in pain or discomfort. January 18th will be the day we take him in - my heart breaks because I want him around with me forever, but I do realize he's not happy and it's time.
Everything has a beginning and an end, fortunately we have two other dogs to bring new love, joy, and happiness to our lives; Toby and Dot, a Yorkshire Terrier and a Shih Tzu (both rescues). I promise to blog about all the fun adventures of the other two dogs. But my memories of all the love Whirly gave me, when I was in greatest need of comfort.
Below is a picture of the three of them napping, that I took a couple months ago shortly after getting our latest rescue, Dot.